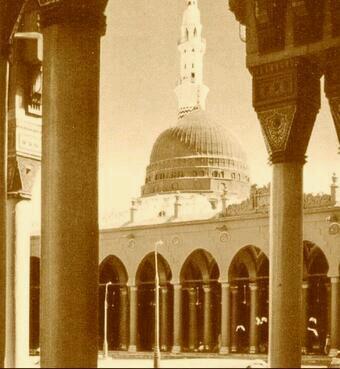 Edited by IlmGate
The history of Aghas — people dedicated to the service of the Two Holy Mosques — goes back hundreds of years. Although there are only about 10 left at the Prophet's صلى الله عليه وسلم Mosque in Madinah Munawwarah, studies have shown that the Aghas have existed in the Grand Mosque in Makkah Mukarramah and the Prophet's صلى الله عليه وسلم Mosque in Madinah Munawwarah for centuries.
Different studies have discussed their appearances, clothing, whether they were married, their salaries, duties and social status, but a lack of translation of historic documents has kept such details a mystery, the Makkah Mukarramah daily said in a report.
According to one study, Sultan Nūruddīn Al-Shaheed sent Aghas to Hijaz in 1161, while other studies show that Mu`āwiyah Bin Abu Sufyan رضي الله عنهما, founder of the Umayyad Dynasty, was the first ruler to appoint Aghas in the two holy mosques.
Aghas were responsible for the upkeep and maintenance of the holy mosques and they also guarded the Prophet's صلى الله عليه وسلم tomb.
Studies that claim Aghas were first present in the Prophet's صلى الله عليه وسلم Mosque reached this conclusion based on three grounds:
Firstly, geographer and traveler Ibn Jubayr who visited Makkah Mukarramah in 1183 did not mention Aghas in his travel logs. He, however, did write about them when he visited the Prophet's صلى الله عليه وسلم Mosque in Madinah Munawwarah.
Secondly, Ibn Battuta visited Makkah Mukarramah in 1324 and he also did not mention Aghas but he did so when he visited Madinah Munawwarah.
Thirdly, the Egyptian mathematician Ahmad Al-Qalqashandi, who was born in 1355, wrote that a directive was issued to appoint a head for Aghas in Madinah Munawwarah. He did not say a similar directive was issued in Makkah Mukarramah.
Faculty member at Taibah University in Madinah Munawwarah, Dr. Ahmad Al-Shabi, said most of the existing Aghas are ill and their duties have been limited to welcoming guests and head of delegates visiting the Prophet's صلى الله عليه وسلم Mosque.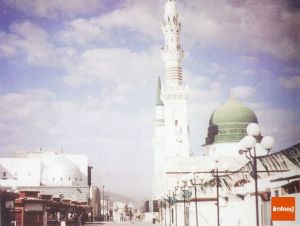 "Aghas had a neighborhood named after them, located to the east of the Prophet's صلى الله عليه وسلم Mosque, but that neighborhood has been demolished for the expansion of the mosque. They wear distinctive clothes and usually stand in one line in a very prestigious manner. Their duties used to include carrying the key to the imam's platform for Friday sermon, cleaning the Prophet's صلى الله عليه وسلم chamber every Friday night, but such duties have now been entrusted to a cleaning company," he said, while adding that most Aghas were from Ethiopia and Sudan.
According to Al-Shabi, Aghas also used to replace lamps and candles in the mosque. After Isha prayers, they used to [go] around the mosque politely asking worshippers to leave.
"One of the Aghas slept inside the mosque to guard it against any intruders. He used to open the mosque for the mu'azzin before the Fajr prayer. As soon as the mu'azzin started calling for the prayer, the Aghas would go around the mosque and open all gates," he added.
Courtesy of the Saudi Gazette (Thursday, May 15, 2014 4:29 PM)
Note: This article was edited for spelling and grammar.